SIBANI LODGE, CRADLE OF HUMANKIND | MAROPENG
SIBANI LODGE, CRADLE OF HUMANKIND | MAROPENG
CONTACT DETAILS
Mobile:
087 012 5375

Address:
Portion 39 - Farm Danielsrust No 518 R563, Cradle of Humankind World Heritage Site, 1739 South Africa
GPS: 25°59'32.3″S | 27°42'45.0″E
E-mail:
reservations@sibanilodge.co.za

Location:
Krugersdorp
Exclusive Nature Reserve Wilderness Lodge offering Lodge, Cottage, Self-Catering, Luxury Tent / Glamping & Safari Accommodation with Conference, Event & Function Venue in the Cradle of Humankind, Maropeng

Mt Savannah Game Reserve is over 2000 hectares and is located in the Cradle of Humankind, one of eight World Heritage Sites in South Africa and the only one in Gauteng, South Africa.
Sibani Lodge is nestled within the reserve, which is home to a large array of wildlife including giraffe, red hartebeest, kudu, impala, zebra and an impressive variety of bird life, flora and fauna.
Sibani Lodge consists of an independent entertainment area, separate main lodge accommodation and two cottages on the property.
The main sleeping quarters are off the entertainment area and offers a master suite and two double rooms with an interlocking bathroom.
The two independent cottages each have their own bathrooms, king sized beds, fireplaces and lounge areas with decks that offer beautiful sunrise views. The décor and furnishings of the Lodge are African inspired creating a gentle ambience within the natural bush surroundings.
The estate also offers a self-catering villa for larger groups as well as four luxury glamping tents positioned approximately 2.5km away from the Main lodge.

Accommodation in the Cradle of Humankind, North West / Gauteng
MAIN LODGE [Amenities and Rack Rates]
MAIN LODGE SUITE
The master bedroom of the lodge is situated at the end of the main area with a wrapping deck, large tub, indoor and outdoor shower and unlimited views over the surrounding hills. The suite is decorated to reflect old Africa and includes a writing desk, leather lounger and beverage station.
MAIN LODGE DOUBLE ROOMS
Off the corridor of the main lodge are two adjacent double bedrooms that share a large joint bathroom appointed with both bath and shower. Each bedroom has its own balcony and outdoor seating to ensure guests can experience the remarkable sun rises.
POOL ROOM
The pool room is surrounded by glass stack doors that open out onto the large sun deck and pool. Utilized as a workout space with a treadmill and casual sun room it also has the extra advantage of being able to sleep additional children when required.
ROYAL COTTAGES [Amenities and Rack Rates]
ROYAL SUITES
Sibani Lodge has two Royal Suites positioned a little way from the lodge to ensure additional privacy and proximity to the main entertainment area.
Each cottage offers substantial space and includes an open lounge area, inside fire place and extended balcony. The en-suite bathroom has a bath and shower overlooking the surrounding bush while the rooms are spacious and opulently appointed.
SIBANI HILLS [Amenities and Rack Rates]
SELF-CATERING ACCOMMODATION
Sibani Hills is a self-catering villa which features an outdoor swimming pool, terrace, garden, a bar, fully equipped kitchen and a shared lounge with flat screen TV.
The Guest Rooms each have a balcony with a garden view and are equipped with air conditioning, a private bathroom, a kettle, a hairdryer and a desk.
LUXURY TENTS [Amenities and Rack Rates]
Sibani Lodge has four luxury tents positioned approximately 2.5km away from the Main lodge.
There are Waterhole view tents and Landscape view tents, all with unobstructed views and shared access to the communal Boma. Each tent is has its own private bathroom which includes a hot shower cabin, washbasin and flushing toilet. The tents are equipped with either 2 single beds or a king-size bed as well as an open-plan lounge area.
Please note that guests making use of the tents do not have access to a swimming pool or Wi-Fi.
There is no electricity supply in the tents, but there is a generator at the Boma which is turned on at certain times during the day where guests can charge their electronic devices.
SIBANI URBAN SAFARIS [Amenities and Rack Rates]
This is a true tented camp bush experience that has no electricity, only hot showers, flush toilets, a private braai outside your tent and a shared boma, with access to various attractions in the surrounding area.
These tents are each equipped with 2 stretcher beds with mattresses, bedside tables, 4 camping chairs with a table and solar lights. Each tent has access to a private bathroom with a hot shower and a flushing toilet. Please note that guests making use of the tents do not have access to a swimming pool or Wi-Fi. There is no electricity supply in the tents, but we supply you with a gas bottle, lanterns and charcoal to prepare food.
On arrival, you will receive a cooler box with ice and cooking essentials including cutlery, crockery, glassware pots & a pan. Please note to bring your own bed linen, towels and your food as it is self-catering. Please wear comfortable, practical clothes and lace-up shoes, especially for the activities available, and come and enjoy a true bush experience with family and friends.

Activities at Sibani Lodge, Cradle of Humankind
You can enjoy a range of activities at Sibani Lodge including Outdoor Activities, Game Drives, Picnics, Clay Pigeon Shooting, Hot Air Ballooning and Wellness Treatments.

Conferences, Team Building, Events, Private Chef and Wedding Venue in Cradle of Humankind
CONFERENCES [Rates]
Sibani offers the perfect location for conferences, situated only 30 minutes' drive from cosmopolitan Sandton with expanses of grassland framed by the ancient Magaliesberg mountains.
Seating a maximum of 25 delegates at either our Boma or Main Lodge. Our modern conference equipment, professional service and individual care allow our guests to complete their presentations successfully.
TEAM BUILDING [Pricing and Enquiries]
At Sibani we can host your next team building event thanks to our partnership with Super Touch Events.
Team options available include Foosball, Mechanical bull, Climbing wall and Soccer field.
EVENTS [Services and Enquiries]
At Sibani Lodge we also cater for events through our partnership with BlackJack Events. A service event company dedicated to personalised service, they offer tailor-made packages to suit all occasions. Their team of highly trained professionals will transform your ideas, no matter how small or extravagant, into reality, ensuring that all your expectations are met. With over a decade of experience BlackJack Events are prominent players within the event industry.
FOOD INK AT SIBANI [Enquiries]
The Food Ink team will travel, set up and cook your most lavish meal, right there in your own kitchen.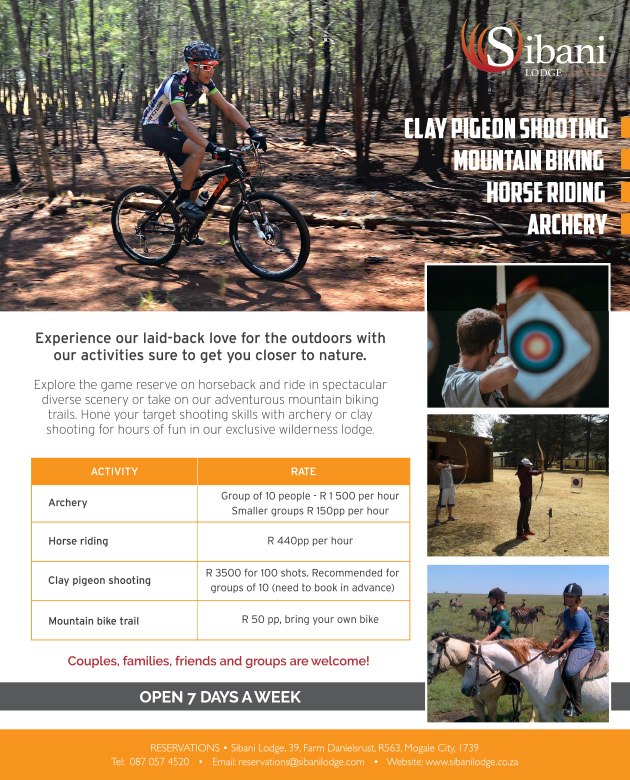 Follow us on Facebook
TripAdvisor
Instagram
SIBANI LODGE, CRADLE OF HUMANKIND | MAROPENG
CONTACT DETAILS
Mobile:
087 012 5375

Address:
Portion 39 - Farm Danielsrust No 518 R563, Cradle of Humankind World Heritage Site, 1739 South Africa
GPS: 25°59'32.3″S | 27°42'45.0″E
E-mail:
reservations@sibanilodge.co.za

Location:
Krugersdorp